31 May 2014
After the stroll in the mall, we came out of the building to be greeted by the grandeuse night scene of Jakarta. I have to say I do like the buildings, except the air quality. The buildings were giants, at least for the offices, malls and high buildings. Though with some hazy condition, the lights from the buildings did made it through...
After that, we headed towards an eating place at Pik - supposed short for Pantai Indah Kapuk. It was a hawker centre like place so that means we get to sink our teeth in a variety of local food, awesome! Even the outdoor of the place was filled with families eating tze-char style.
Among the food we ate, we started with a little local appetizer. This is Tahu Gejrot. Tahu, means beancurd. Hence it is beancurd mixed with chilli and some herbs and vinegar. It was overally sour-ish but not all of us could appreciate the taste. Beware of the cili padi though. (Cili padi is the green small chillis - legendary spicy ones)
This is one of my favourite from Jakarta, Nasi Bakar. I like how they bakar the whole thing, rice with vegetable and the fish. It was some salted fish. I was not a big fan of petai (the smelly beans) but I find the combination here incredible. The vegetable was not as nice but they fit it somehow, at most I could pick out some of the leaves.
Just in case I forgot how the stall looks like, it was like that. There were different types of nasi bakar, mainly due to the differences in meat, however the content or side dish could be different too. They have a cute little pig on the stall too, sniffing flowers...
We ordered satay too. What was different in this satay was the sauces. Note the curry-like liquid topping the dish? Unlike those in Malaysia and Singapore, they did not provide a sambal or satay sauce separately. However, the taste of this soup, was nothing like our satay sauce. I can't reapply describe them aptly here, but the touch was nice!
This is me enjoying every bit of the dinner plus the satay.
Along our journey, we were introduced to this legendary siomay. Unfortunately, the only siomay sold in this centre was pork-based. Even though the rest do enjoy it, I find the taste normal and not especially enticing. Perhaps I was not too fond of pork in all shapes and taste, but it was of a peculiar taste. *hint: I will be meeting my favourite siomay later in the trip!
This is the view from behind the stall. They could have one whole row selling drinks, all kind of drinks. I bought a blueberry tea and was surprised to find out they do really make real tea for that instead of some formulas. To some extent, I'm very chuffed with their drink standard.
Of all dessert, we were introduced to these cute little flour dough. They were made using some liquid same as how apom was made but these were made into a thicker shape and topped with sweet cocoa rice. They were called Kue Cubit. It was funny because 'cubit' means 'pinch' in Malay. They make really nice dessert, though could be quite filling at times.
After our dinner, we headed back to our staying area. On the way, we did stop by to be intrigued by the Tzu Chi Centre in Jakarta. It was a very big place and supposed to look like this: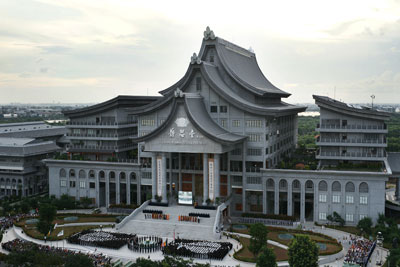 It was dark that time, but we could feel the grotesqueness of the building. It sure looks grand, but I do wonder the same question as to many other religious places, do we really need such big structure? It would be great if this place were to be put into good use. Many thought we could serve whatever we believe by building big places, giving huge money - when we forget, there are those nearer to us, whome we could give immediate help. No matter what, I do believe that Tzu Chi do provide quite few useful platforms to serve the community.
After that, we headed back.